Description

The Nourished Life Experience is a 28-day plan where you are given all of the tools you need to get your health on track and to keep it there. Each day for the 28-day program, you will drink one delicious and super filling shake at the mealtime of your choice, eat two nutrient-dense snacks, enjoy two other low-glycemic meals, and take your daily AM + PM supplements. Other daily health practices include 30 minutes of physical activity, drinking water, and getting at least seven hours of sleep every night. All of these things will be taught to you throughout the course of the program in a manageable and consumable way. No overwhelm, no worry, no problem. You've got this!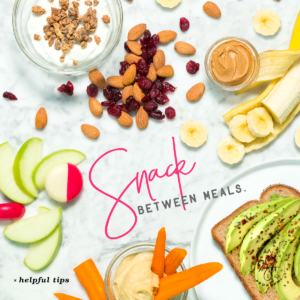 You will receive healthy eating guides with sample meal plans, grocery shopping lists, and a Facebook community to support you along the way. Plus, you will receive tips and tools beyond the private forum via e-mails, videos and audio on topics such as managing stress, snacks to balance cravings, exercise, health hacks, and so much more!! You are going to have access to all the tools that are meant to teach you healthy new habits and practices to set you up for long-term success. Oh, and you have a built in support network, accountability partner and cheerleader wrapped into one — ME!!! You will have full access to me via the Facebook group, e-mail, and our live group coaching calls.
Here's what is included in the Nourished Life 28-Day Experience and the value you are receiving:
Private Facebook Group — community of support (Value: priceless)
Prep materials — healthy eating guide with sample meal plans, recipes, grocery shopping list, and all the information you need to prepare before the program starts. (Value: $97)
Tools & Resources – content delivered to you throughout the course of the program via video, audio, e-mail, Facebook, on topics relating to weight management, healthy eating, exercise, sleep, digestion, managing stress and self-care. (Value: $197)
(4) live weekly group coaching calls (all calls will be recorded) – your opportunity for on the spot coaching and live Q & A. (Value: $500)
28-day supply of healthy and delicious shakes (1 shake per day) (Value: $115)
28-day supply of AM + PM supplements, including the #1 rated Multivitamin and Fish Oil in North America* (Value: $95)
A Certified Health Coach in your corner — you will have full access to me through the Facebook group, live group coaching calls, and via e-mail (24-hour response time M – F, 48-hour response time Sat + Sun). (Value: $500)
The TOTAL Value of this program is over $1,500!!! You are only paying a small fraction of that with your $397 fast action bonus (enroll by October 13). All of this is available to you for less than $15 per day.
I've got to ask, is a healthy lifestyle and well nourished life worth $15 per day to you? 
Register by October 13th, to receive $100 off the cost of the program. The program starts on Monday, October 23.
Act fast for $100 off – ONLY $397 (until October 13th)
Research studies have shown it takes 21-days for a habit to form. Changing one habit can impact your entire life. What if that habit shift was to be healthy? Imagine how every single area of your life could improve with this shift. Imagine being healthier is your new habit and not something you need to think about…you just do it, because it's ingrained in you, like brushing your teeth. Being healthy is your new normal, your new lifestyle, and you are set up for life with this new habit.
Are you done with deprivation diets that don't yield results?
Are you done with fad diets?
Are you ready to kiss the scale goodbye forever?
If you are ready to step into the healthiest you, then do not wait another minute. It's time to do it a better way, a sustainable way, the right way — with support and accountability. Join the Nourished Life Experience right now!
Enroll in the program prior to Friday, October 13th, and receive $100 off the cost of the program. Register now for the discounted low price of $397. After October 13th, the cost of the program is $497.
Enrollment period closes on Monday, October 16th. The 28-day Nourished Life Experience begins on Monday, October 23rd.
*All supplements are pharmaceutical-grade, which is an even higher standard than organic, scientifically tested for safety of upper-limit dosages, and manufactured in an FDA-registered facility. They're also rated #1 in North America by 3rd party studies and tested by Consumer Labs. The supplements are a crucial component, as they offer the micro-nutrients to support you on a cellular level, which provide your body with optimal level of nutrients.