Health Tip: Back to Basics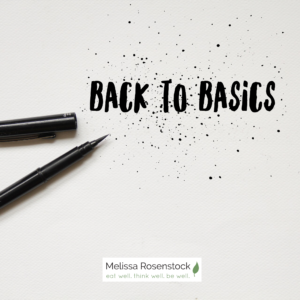 Whether you overindulged over the holiday weekend or you feel like your eating could get on a healthier track, the fastest way to get there is by keeping it simple, going back to the basics and taking it one step at a time.
The five basic essentials below:
1. Water — Hydrate. Hydrate. Hydrate. You get the point, hydration is critically important.
2. Veggies — Eat your greens and all the veggies…think raw, steamed, roasted, grilled, etc.
3. Physical Activity — Move your body! Walk, run, hike, bike, dance…just move it!
4. Sleep — Aim for 7-8 hours of sleep per night. Your body needs sleep!
5. Kindness — Yes, kindness! Be kind to yourself in your thoughts, your words, and your actions.
Treat your body well. Nourish it — physically, emotionally, and soulfully. Speak kindly to yourself. Simplicity at its finest…the basics!
Feel like you need a reset after a weekend (or a lifetime!) of overindulging? The 5-day Sugar Buster RESET program is the solution you've been searching for to curb the cravings, lose weight, and leave you feeling great! I'm putting another group together and would love to support you to get on the healthier track. Message me to get on the waitlist for the June program!
No matter what, keep it simple and go back to basics…always!