You Are In For A Treat!
You don't want to miss this announcement!
I interrupt your regularly scheduled blog post and weekly #HealthTip for a super special announcement!! Because you are my loyal supporters, you are the first to know, which means you get first dibs.
SUPER SPECIAL Announcement: FREE Coaching – July 31st only!!! Let's close out July and begin August with a bang. For Tuesday, July 31st only, I'm offering free 30-minute coaching sessions. No strings attached, no sales pitch…strictly laser coaching to help you! Health, nutrition, relationships, career…LIFE stuff…whatever it is, bring it on! Don't delay, these will go fast!!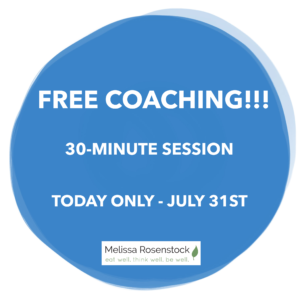 Go to the link here to schedule your FREE 30-minute coaching call! I can't wait to connect with you!
Do you know someone who could use some guidance and support in their life? Please forward and share with them. Thanks for spreading the love!
We'll return to our normal programming aka weekly #HealthTip next week. Until then, Eat Well. Think Well. Be Well.