Weekly #healthtip — G I V E!
"Happiness doesn't result from what we get, but from what we give."
― Ben Carson
This week's health tip was in honor of Giving Tuesday, and it is to give — give to others and give to yourself.
By giving to others you are giving a gift to yourself. It is not about giving and expecting something in return. It is about giving for only the sake of giving and when you let go of the expectation to receive in return, you open yourself up for the biggest gift, because it is in the act of giving that you receive the most. I can't tell you what that gift should be, but I can tell you that it does not always need to come in the form of money or even a tangible good, it can be a service, a random act of kindness, and/or even a hug. The most valuable gift cannot be wrapped or measured, it's the gift of compassion and of love. You can give that away all you want, but if you don't give those things to yourself too than you are shutting yourself off to the full experience of the gift.
It feels good to give, it really does. I want to give you a gift — a free 30-minute coaching session. For the first 10 people to comment below letting me know what they are going to give to someone else today, I will gift you a no strings attached, no sales pitch, absolutely free 30-minute laser coaching session on a topic of your choice.
To give is to get…the gift you didn't expect…in the form of how you feel after giving.
**Happenings**
Become a VIP founding member of Eat Well. Think Well. Be Well. a 6-week group coaching experience empowering you to look beyond the plate, ditch the scale, and nourish yourself whole —in mind, body, and soul.
We will have six weekly group coaching calls (60-minutes each and all recorded even if you can't be there live), unlimited e-mail support, private FB community, and all the tools and resources you need to learn how to eat well, think well, and be well for life!
As a VIP founding member, I would love to offer this program to you for only $197, which is a savings of $200. That is less than $5 per day — less than a daily latte!!
Apply here to be a VIP founding member. Have questions? Send me a note or let's hop on the phone to see if this is the right program for you.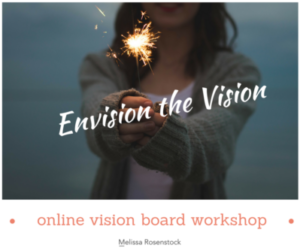 Join me for a 60-minute live online event* on December 12th at 12:00 pm PST to create a 2018 beyond your wildest dreams. Learn the best methods for creating a vision board, goal planning for the year ahead, and bringing your visions to life. Make 2018 the year you will never forget.
This online live workshop is being offered at a special price of $20.18, a savings of over 40%. Whether this will be your first vision board or you are a pro, this is the event that can bring your dream life into reality. Don't miss this special live workshop at this special price of $20.18 in honor of the year ahead!
*Event will be recorded live, and recording sent following the event, if you cannot be there live.
Let's finish 2017 strong and gift yourself good health!