In order to create your best year yet, you need to envision it first!
Envision the Vision…2019 is weeks away, less than three, actually. You can spend these next 18 days of 2018 thinking about your holiday shopping list, all that needs to get done, and head into the new year feeling unprepared for 2019, OR you can envision and create the year of your dreams with me. Which are you going to choose?
Join me for a 60-minute live online visioning event* on December 20th at 11:00 AM PST to create an epic 2019. You will learn the best methods for creating a vision board, goal planning for the year ahead, and how to bring your visions for the next year into reality. Make 2019 the year you will never forget.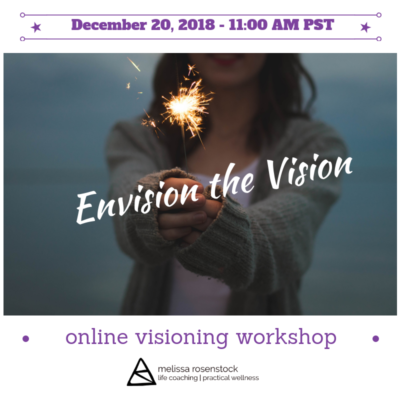 (*Event will be recorded live, and recording sent following the event, if you cannot be there live.)
This online live workshop is being offered at a special price of $20.19, a savings of over 50%. Whether this will be your first vision board or you are a pro, this is the event that can shape your future. Don't miss this special live workshop at this special price of $20.19, in honor of the year ahead!
You can be reactive, hoping for the best, and waiting to see how it goes, OR you can be PROACTIVE, envisioning and creating how you want it to go. I can't wait to envision the vision with you. Let's do this! Sign-up below.
be well. love mel.